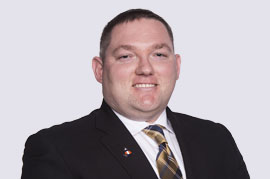 Richard Shafer
Chief Information Officer
---
Harbor Healthcare System's Information Technology Department is constantly striving to stay on the cutting edge of health information technology while also maintaining an effective, reliable, and secure environment for our staff to provide premiere patient care across all business units. Utilizing the latest technology tools and skills, IT services are delivered on time and on target.
Richard Shafer has been with HHCS for over 6 years. As Chief Information Officer, he oversees the information technology strategy for Harbor, developing and executing the policies and goals for the IT department. Richard plans and implements additions, deletions and major modifications to the supporting infrastructure company-wide in coordination with corporate leadership. He continually monitors the implementation of network security while anticipating future network needs.
Richard is proud to have served in the United States Marine Corps. His training and service as a Marine assists him in his everyday communication with his department. The IT department remains well informed, at all times, on updating systems and management of overall structure.
Richard holds a degree in Information Systems and strives to achieve excellence in all areas of Information Technology in order to effectively manage the infrastructure at Harbor Healthcare System.