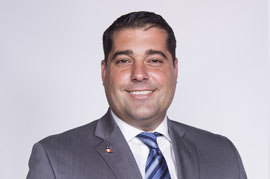 Bryan Gaspard
Chief Operating Officer
---
Bryan Gaspard joined Harbor Healthcare System in December of 2005. Since then, he has been instrumental in the overall growth and direction of the company's marketing initiatives, business development, and start-up expansion.
Under Bryan's leadership and management, Harbor Healthcare System has expanded their hospice operations by over 40 percent in the past two years. He has been essential in the licensing start-up process from a state and accreditation stand point.
Bryan is responsible for achieving a 100 percent conversion rate on start-up accreditation surveys in the hospice, home health, and durable medical equipment agencies at Harbor. His extensive background in developing and fostering physician/hospital relationships has helped him spearhead and develop trend setting ideas which have launched Harbor to new heights in healthcare.
Since joining Harbor, Bryan has received his Hospice Administrator Certificate and has utilized this education for numerous administrative and operational roles in management. Bryan graduated from Lamar University with his Bachelor of Business Administration and a Major in Marketing.