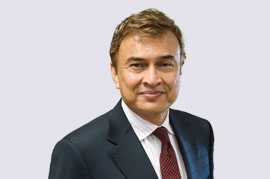 Qamar Arfeen, MD
Chief Executive Officer
---
Dr. Arfeen is the Founder and Chief Executive Officer of Harbor Healthcare System, a highly successful healthcare management company, overseeing companies in Texas, Louisiana, Michigan, and California. The key to this phenomenal success is ongoing, active involvement in the development and operations of all of Harbor's managed healthcare entities, along with its reputation for service excellence and compassionate care as a result of innovation and advanced technology.
Board Certified in Internal, Pulmonology and Critical Care Medicine, Dr. Arfeen has spent many years examining the business side of medical clinics and hospitals, and has applied that experience to create a prominent, effective healthcare network. He has assembled an acclaimed group of physicians to redefine the fundamentals of hospice and home health care. As a creative entrepreneur in the healthcare field, he has successfully organized several long term acute care facilities with synergy to create a winning continuum of care for all involved.
With a philosophy of dedication and teamwork, Dr. Arfeen considers listening to be a key to success at all levels of the organization, along with promoting solid co-worker and patient relations. Harbor is building a team to create the provision of services within our communities which guide our patients to a higher quality of life no matter what their diagnosis is.
Dr Arfeen believes in treating each patient as a family member. This is the mission at Harbor, and it reiterates Harbor's core values of compassion, integrity, and excellence for every person served.
At Harbor Healthcare System, we will continue leading the way in medical excellence and transforming healthcare in every direction.